Mid-century modern design is having a massive resurgence; its influence can be seen in commercial and residential building design, kitchens, bathrooms and décor. The design movement emerged in about 1945 after World War II, it grew in popularity until the mid-70s and kept a fairly low, almost stagnant profile until now.
Why is mid-century modern design making such a big come-back?
Mid-century modern design is highly compatible with our Queensland climate. It complements a desire for living more closely with nature and a clean modern aesthetique. The materials used, and potential for low impact in both interiors and exterior, make mid-century modern highly compatible with sustainable design. The key features of mid-century modern design are curious contradictions, a distinct balancing act:
Flat planes and clean lines, yet also use curves to great effect
Contemporary yet classic
Natural finishes of wood, glass, stone, concrete, and metals combined with highly fabricated materials of fibreglass, vinyl and plastic
An earthy colour palette with bold pops of bright colours
An equal emphasis on both form and function
This balance in design features finds mass appeal in its delivery of simple, fresh design that works.
Most prominently for Queenslanders, the integration of the open-plan indoor living areas and outdoor spaces results in a doubling of living spaces with the opening of large glass doors.  The use of large panes of glass, and the same ceiling and floor finish inside and out, helps create a seamless connection to the outdoors.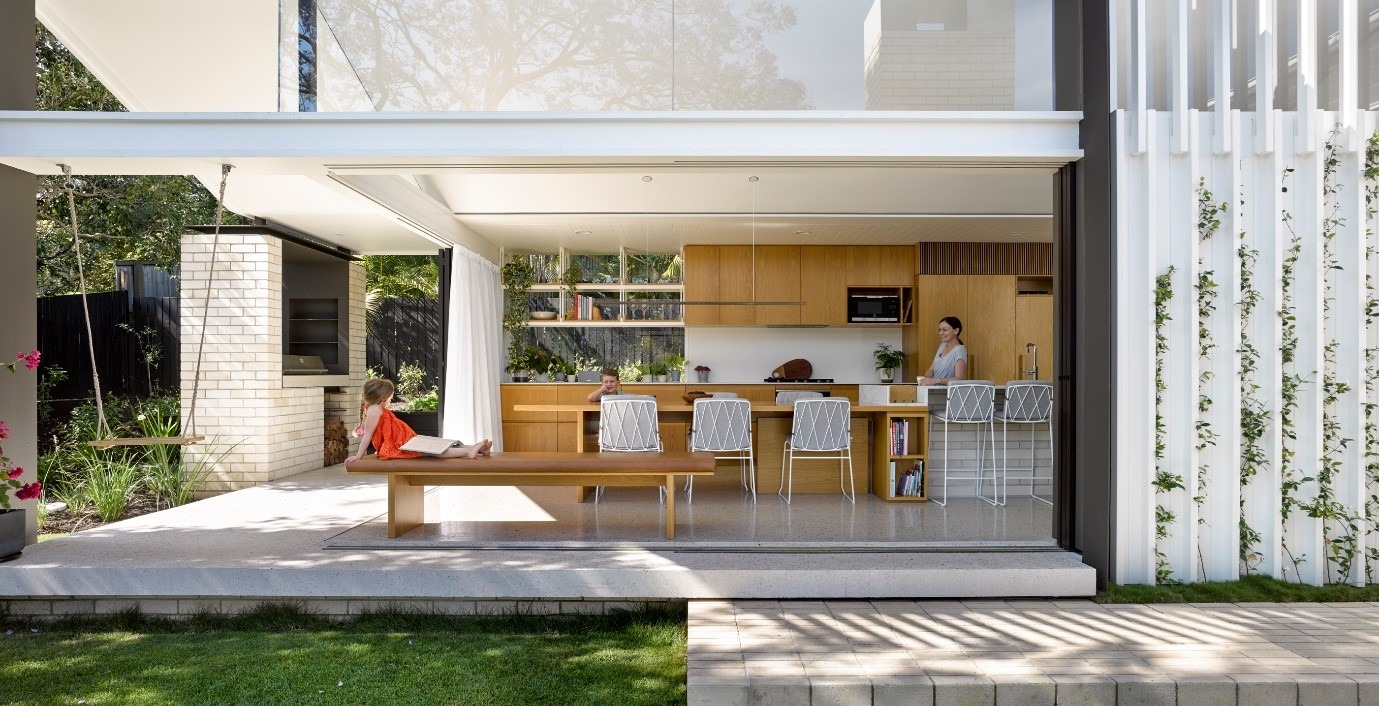 Mid-century modern design influence in Kitchens & Bathrooms
Interior trends are increasingly mid-century modern. In kitchens and bathrooms, cabinet doors and drawers are styled with a flat plane and recessed finger holds for opening. This contrasts with the highly popular shaker style cabinetry of Hamptons inspired homes.  Kitchens are predominantly styled in warm timbers combined with stone and stainless steel. They include some open shelving, displaying essential yet stylish items in an uncluttered fashion, breaking up the timber colour palette. Kitchens and bathrooms both utilise unfussy surfaces in benchtops, vanities, cabinetry, and tiles that are easy to clean and maintain.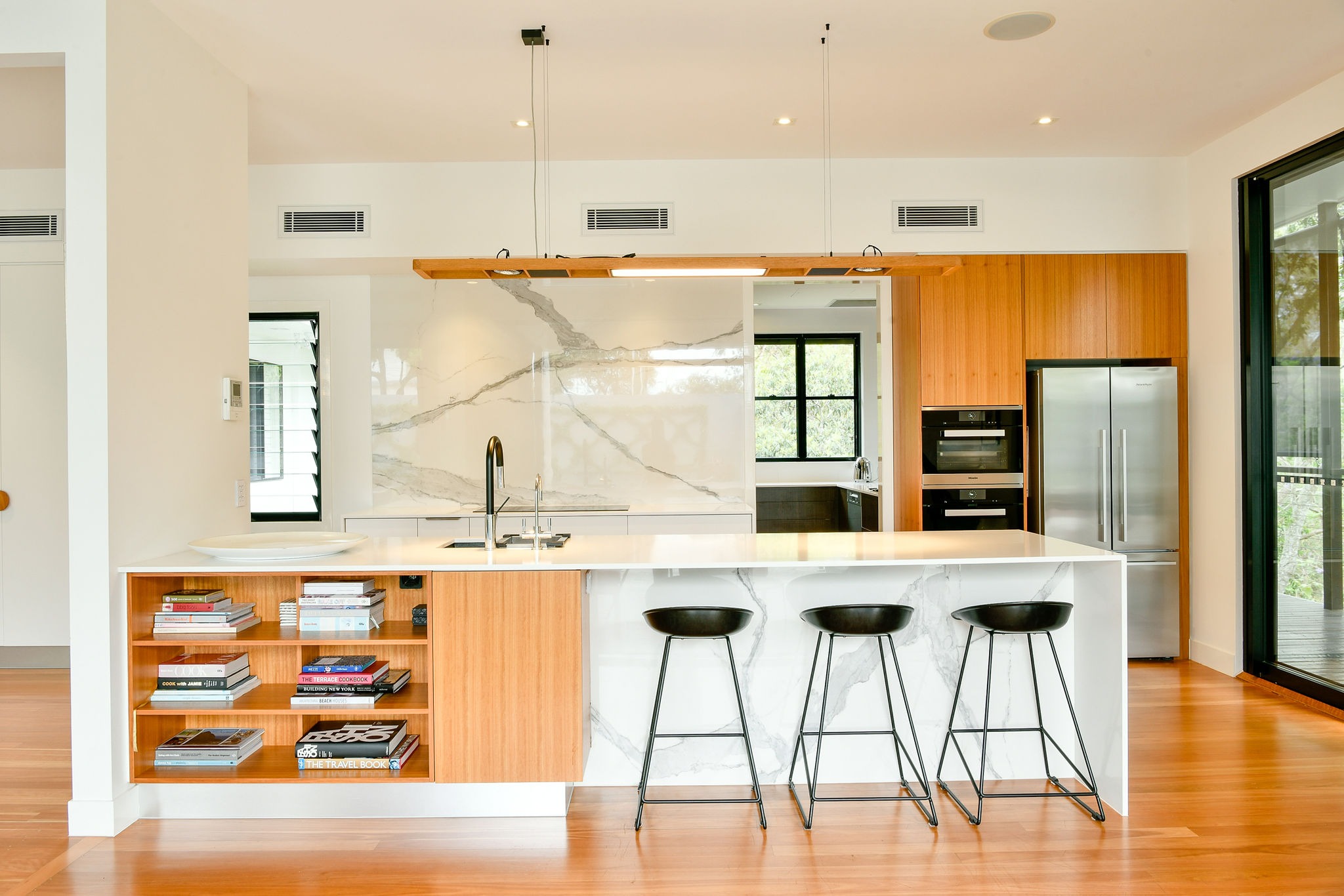 Add mid-century modern design flair through your interior decor
In furnishings, chairs and sofa legs are lean and tapered, continuing the raw and function focused features.  There is a plethora of retailers selling replica, classic mid-century modern designed furniture with iconic styling from Eames, Wegner and Noguchi.
Another easy way to introduce mid-century modern styling to your interior décor is to bring the outdoors in with lots of potted plants and natural textured elements like raw timber logs as side tables. In soft furnishings, use bold blocks of colour and introduce patterns with small geometric designs for covering couches, cushions and lamps.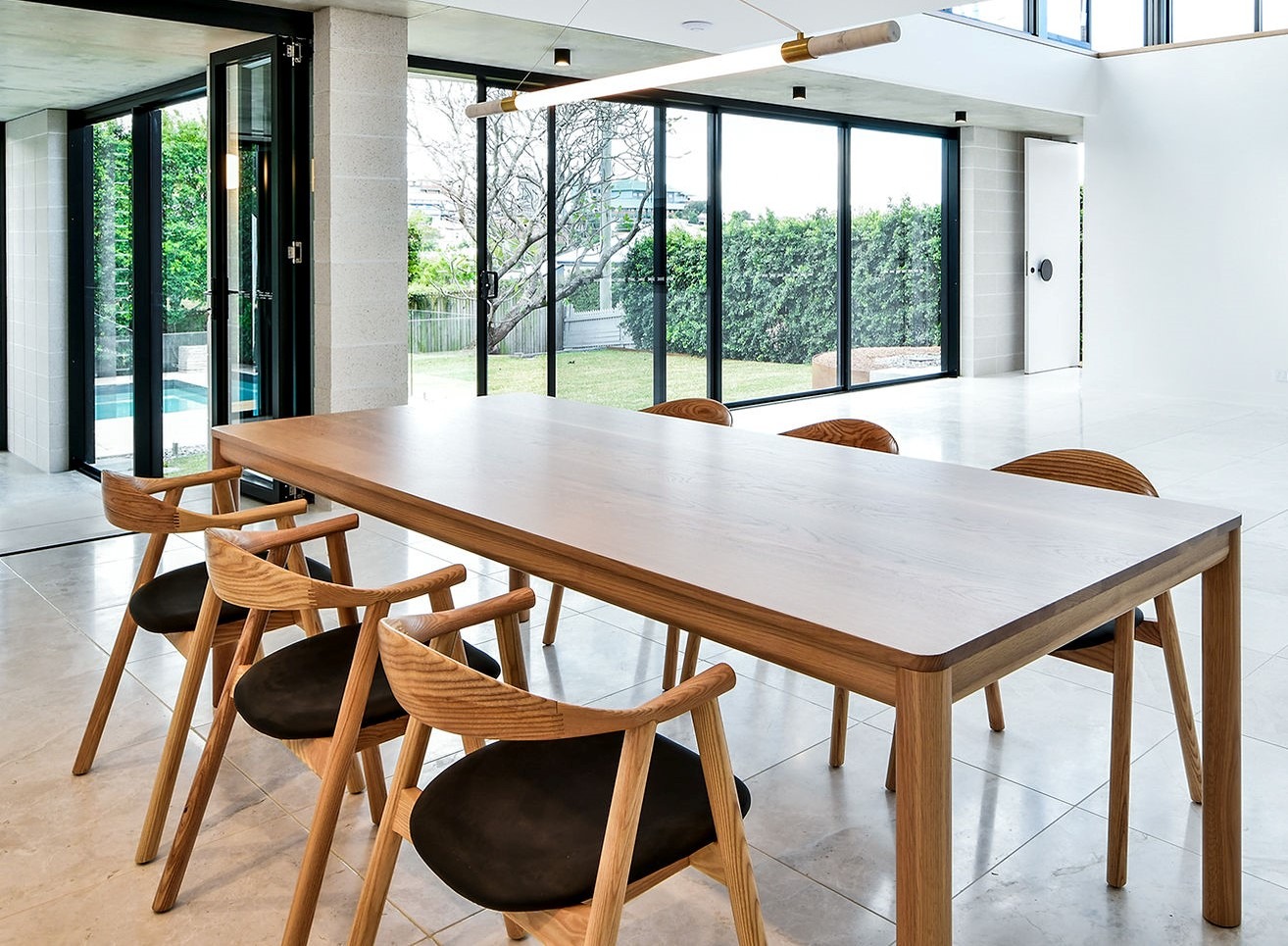 The simplicity of mid-century modern creates a relaxed haven connecting you with the natural world and is visually focused on only the essential materials and objects that are as functional as they are beautiful.
We can help you get started, no matter where you are in the planning process. Contact us on (07) 3899 6355 for a chat.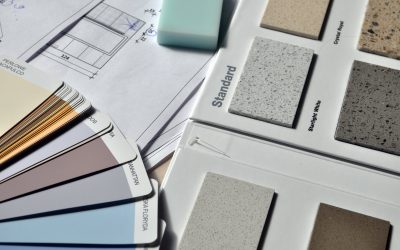 Building your own home is a life-changing process. It is also one of the biggest investments you will make. To enjoy the adventure, start by careful planning, realistic budgeting and take...
read more